This is a brief report simply because we only walked 1.5 miles today. It was raining most of the day. However the climate had nothing to do with the walking distance. All we did was walk around dinner tables. In other words, the only report I can give is about food, but then this is France! All we did today was eat. At 9:40 this morning we got on the Metro Line 12 and headed for Issy and a short walk to the Seminary where Archbishop Doré was expecting us. After an hour of conversation a Champagne cork popped followed by a sip of Woodford Reserve. The conversation was stimulating as always with this wonderful, bright man who coined a new phrase in English, "Spiritual Alzheimer's" describing a certain kind of piety that is not very involved in the present. I love the idea. At one of his favorite restaurants in the small suburban community of Issy, we dove into an immense meal, two wines, and a desert worth a picture called "Cascade des fruits". I will let you savor the idea by the picture. The Archbishop has published two new volumes since I saw him last, and I will be bringing them home with me.
We returned to the apartment around 3:00 and fell soundly asleep. You can imagine why.
By 6:00 pm we returned to consciousness, went back to the Metro this time taking metro line 10 out to the edge of the city where Nicole met us for a wild and frightening drive in the rain in the dark to her home for more food! Jean had prepared Boef Bourguignon. He is a master at this production. Of course, there was champagne to get us started salmon en croute, crepes for desert, and 100 year old Calvados and coffee. Because their grandson (12 yo) and a friend of his were staying with them, Jim and I returned to the apartment at 11:30 pm by car with Nicole at the wheel. As she was opening the gate to back out of their drive, I said the Act of Contrition aloud for Jim and I expecting him to give absolution, but he asked for the Oil of the Sick instead. Since there was little to no traffic at this hour, we were not in any grave danger. The day is over and so is the first week. Next week our social life is quite demanding, and we will be hosting a dinner party here after a road trip (you guessed it) out to the Loire Region for a day.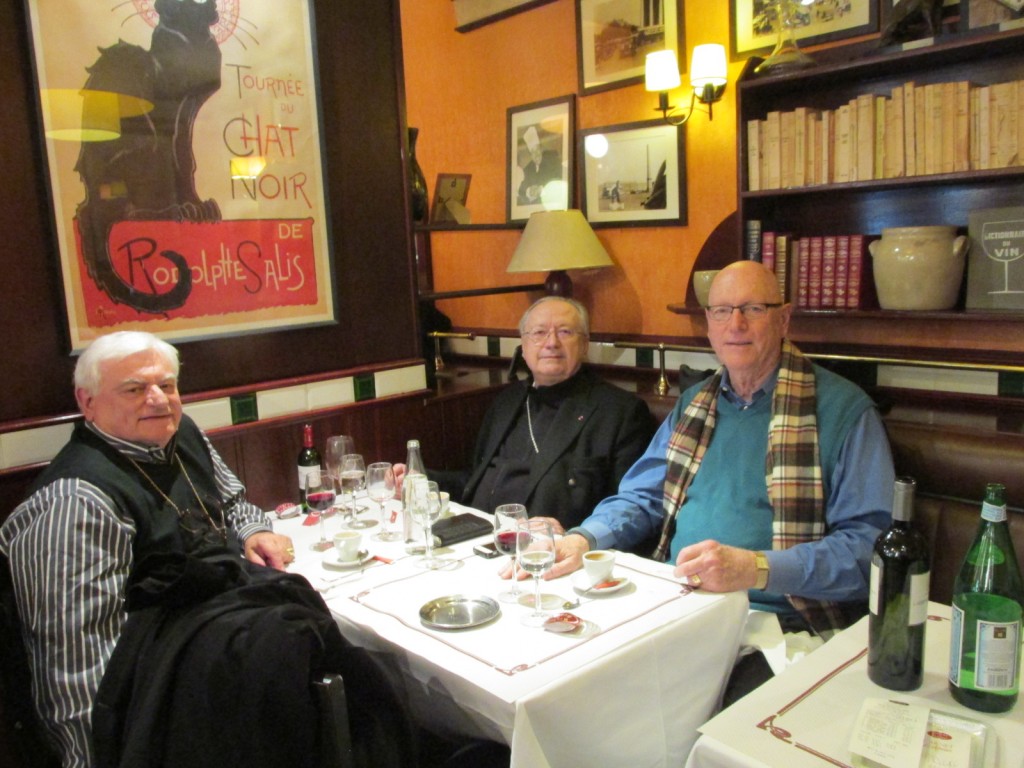 If there typos in this report as yesterday, read it again and think of what has been consumed. If there was "sinner" at the Koche's it may have been a brush with gluttony! Unfortunately I could not find a nice way to take a photo at their home during dinner, so there is no visual record of that feast, but….Good night to all of you. I had a great picture of our desert, but it will not insert for some technical reason beyond my skills.