Yesterday, a waiter encouraged desert by saying: "It's Sunday." Jim's response was, "When you are retired, every day is Sunday." The waiter laughed but did not sell a desert. I am pleased to report that as I write this at nearly 5:00 pm the fitbit reports 3.9 miles today, and half of it was uphill. The first half. The sun was out bright and clear until about 3:00 pm, and until then it seemed fairly warm – mid 50s. After losing the sun it felt much colder, and a breeze came up. I think tomorrow it may rain.
On our exploration today we stopped by the Sulpician Father's House on rue Regard to see if an American priest who is the Superior General was in, and I wanted to say "hello" and see if the Sister who sits at the gate most days was there. We missed on both scores, Father Ron is in the  USA, and Sister was not in the house today. We then hiked over to the Institute Catholique (The Catholic University here in Paris) to see if an American Professor might happen to be in today. She is from Yukon, OK. We missed again, but I have sent an email to see if we might possibly get together for a coffee and talk "OKIE" before returning to OKC.
Because it was such a beautiful sunny day we walked on further to the Luxembourg Garden and probably spent an hour just sitting in the sun watching Parisians do Parisian things, like eating sandwiches, dozing in the warm sun, and making out on the benches.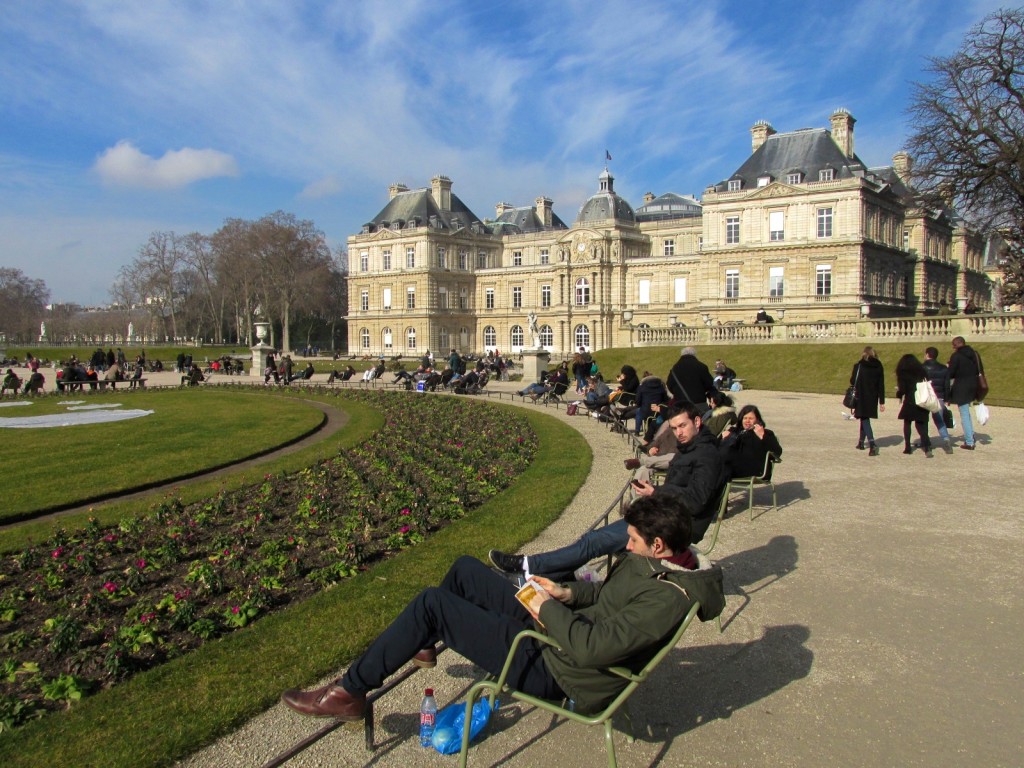 This week is the "Winter Holiday" time, so schools are closed which means there were a lot of children running around in the garden as well. I decided that we should hike over to a fascinating area of the city called: "Mouffetard".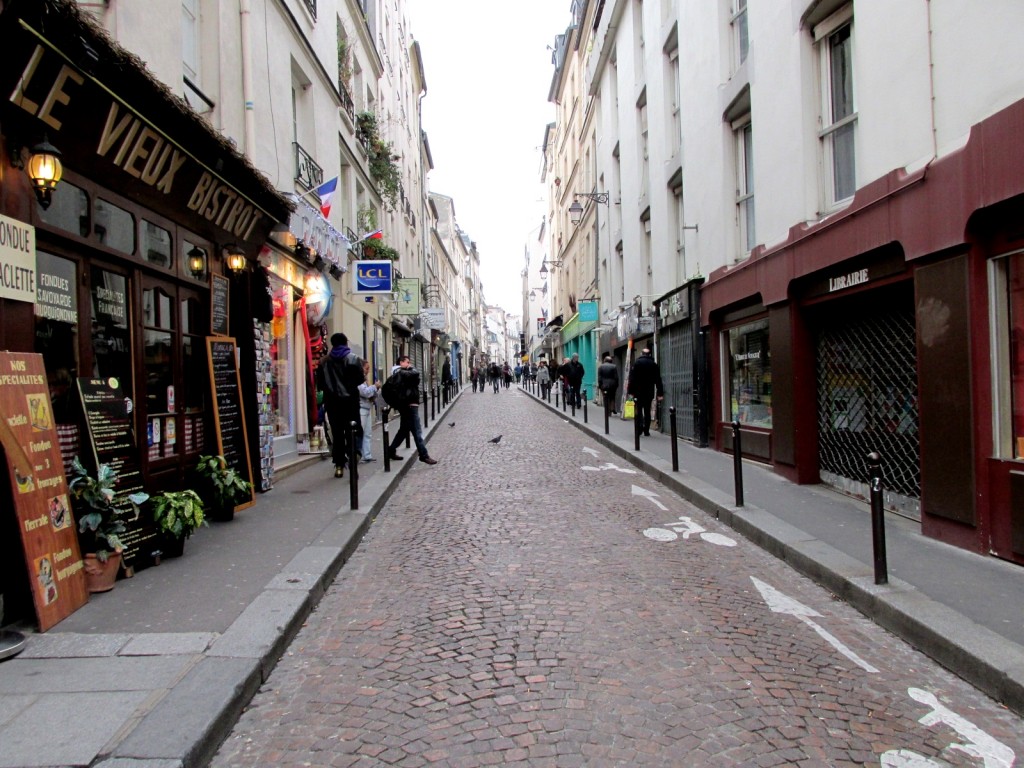 It is a section of the city that was outside the walls in the Middle Ages, and has always been "home" to writers and artists. I always find the narrow little streets fascinating. It is an intriguing neighborhood with a spider web of streets that wander around and intersect at odd angles, and there are ruins here and there from the Roman times making it all the more interesting.
There is a large market in the area that was not operating today, Monday; but it is something to see on Sundays. At the heart of the area is the Place Contrescarpe which is a little square with a fountain in the center and cafes all around. Hemingway lived right off the square.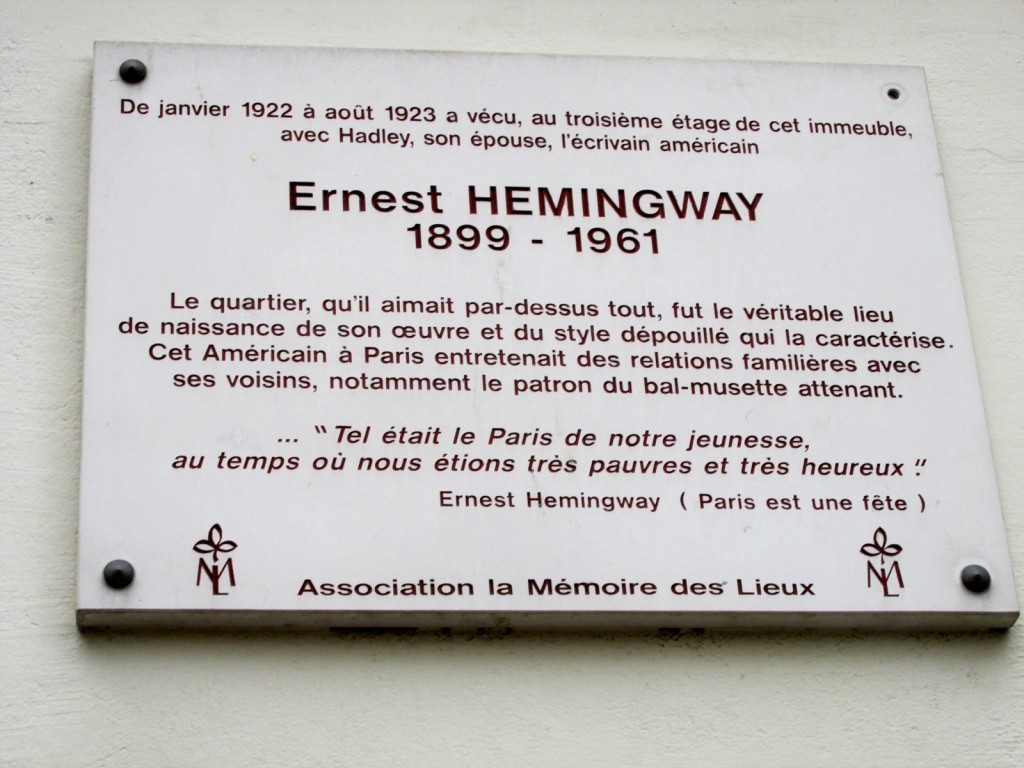 Here is a very interesting link about the Contrescarpe: www.writersinparis.com/formwritersinparis.php.
What I have always enjoyed wandering around this area is that much of the play/musical Les Miserables was set right here, and the street names and the church of St Medard are at the center of the action for Jean Valjean in Hugo's play. I found myself humming some of the melodies walking up and down the narrow streets.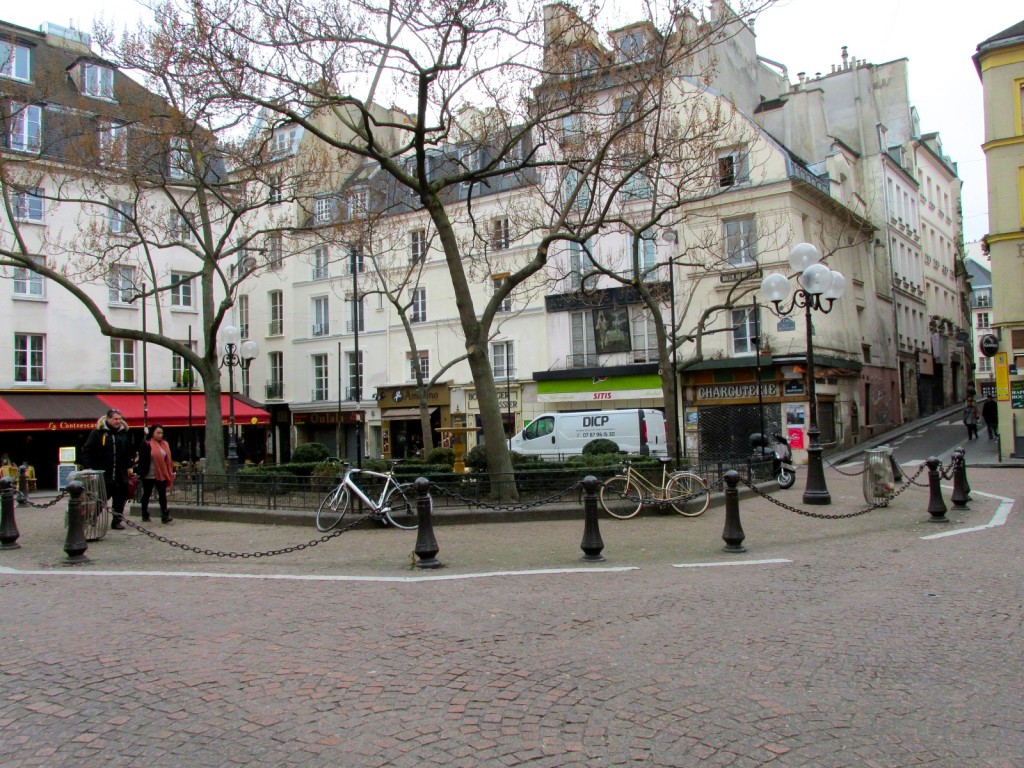 We had a decent lunch on the Rue Mouffetard at a restaurant/bistro that is even pictured on a web site about the Mouffetard: onion soup gratine, chicken with cream/mushroom sauce, frites, and I had Dame Blanche while Jim had Chocolate Mousse for desert. Was it Sunday?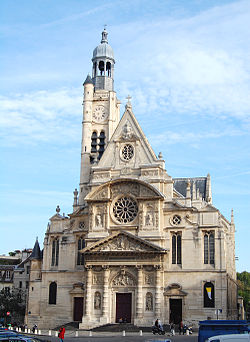 He had never seen the church of St Etienne du Mont; so we walked by there on the way home; but it is not open on Monday, Tuesday, or Wednesday. Must be nice to be the paster here. Maybe he's retired: a four day week like much of France. They work four hours and get paid for twelve. We work twelve and get paid for four! Oh well. So much for prayer and devotion to St Genevieve whose body was there till the revolutionaries threw it in the river. Now there is just a beautiful shrine to her memory (Patron of the City).
It is a wonderful building in Flamboyant Gothic that Jim did not get to see. Given the fact that it is a steep uphill walk, I'm not sure he ever will. There has been a church on this spot since the 6th century, but during the Middle Ages it grew and was enlarged several times to accommodate the University of Paris which is all around it. The man who started the St Vincent de Paul Society, Frederick Ozanam was a member of this parish
A quick metro ride home or I would have had to call and ambulance for Father Hackett. There was no way I would have carried him. Soup for supper. I think we may be in the night, and it's cloudy. I am waiting for call from Bishop Dore, Nicole, and a priest friend who lives in Lourdes. Jim just asked if I was going out for a "run."  Funny man.