Jet lag is over after a long and good night's sleep!  We had a typical french breakfast, and then headed out for Mass at St Eustache. The market was open as always on Sunday just around the corner on Blvd Raspail.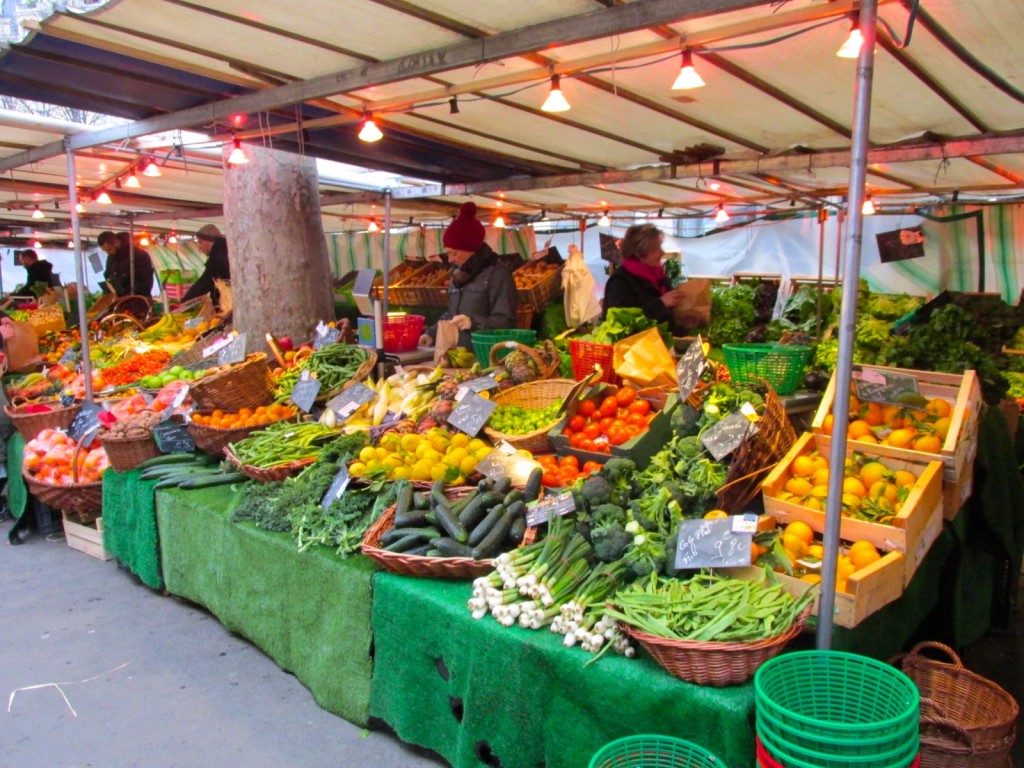 When we walked in the church I was delighted and surprised to find Jean Guillou playing the big organ from the console down in the Nave of the Church. I've never quite warmed up to French Contemporary Organ music. I had thought it was simply executed by using forearms and knees on the keyboards all at once; but as I watched him today it was only his fingers and two feet; but it still sounded the same: lots of boops and bopps, rumbles and groans. Jim wondered if he was having a stroke! Notice there is no music on the stand. The guy in the foreground is not amused.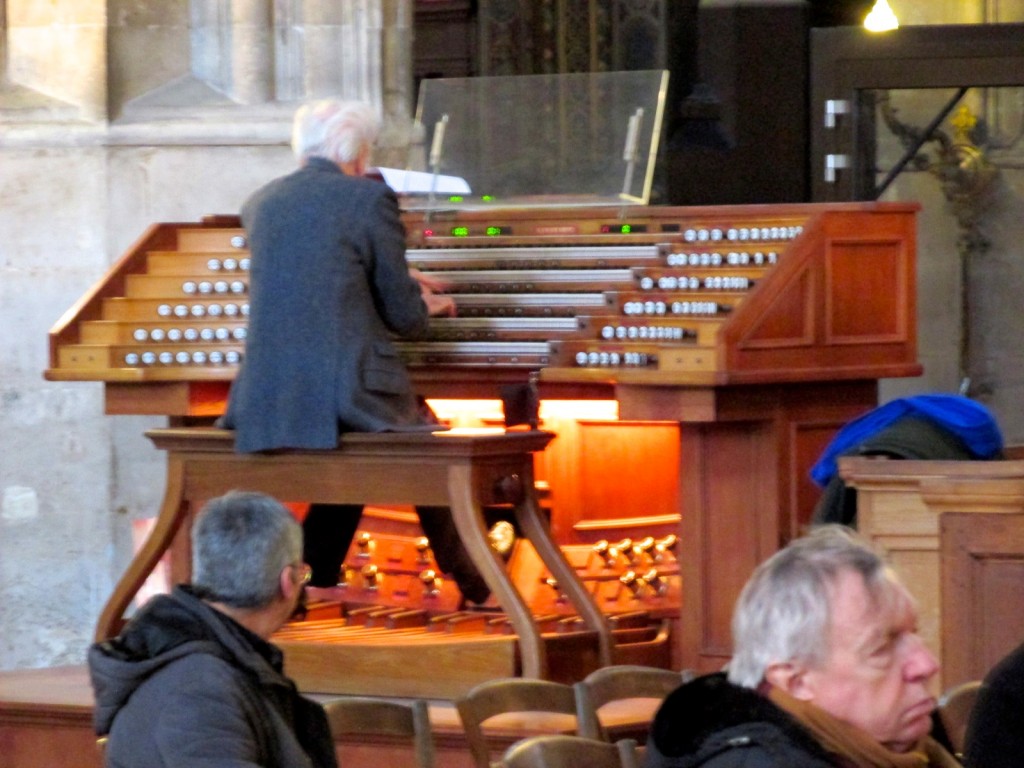 The Choir was excellent as always singing parts of a Mass by H. Hardouin. He was a French composer at Rheims just before the Revolution. Mercifully it was not "contemporary." You could actually hum along with the nice harmonies! The sun came out during communion and turned the church into a kaleidoscope of color making up for the noise come from the organ. Best of all, it wasn't too cold outside or inside.
After Mass Jim and I made our "promenade" over toward the Centre Pompidou and had a typical french lunch of steak, fries, and wine at a place I like facing the Stravinsky Fountain, and then we wandered into the Marais and around to St Gervais where we will attend Ash Wednesday Liturgy. It was quiet and as beautiful as always. I think this church is one of the best kept secrets in Paris. They are putting in new windows gradually, and every time I am here, there are more of them. A bomb was dropped on this church in 1945 during Mass killing a lot of people, so the site is really rather sacred and made all the more so by the Monastic Community of Jerusalem who are given this church as their home. The community was founded here in 1975, and their mission is to live in the heart of a city, in the heart of God. It springs from John 17:15: "Father, I do not ask that you take them out of the world, but that you keep them from the evil one." The place is literally an oasis in the urban desert.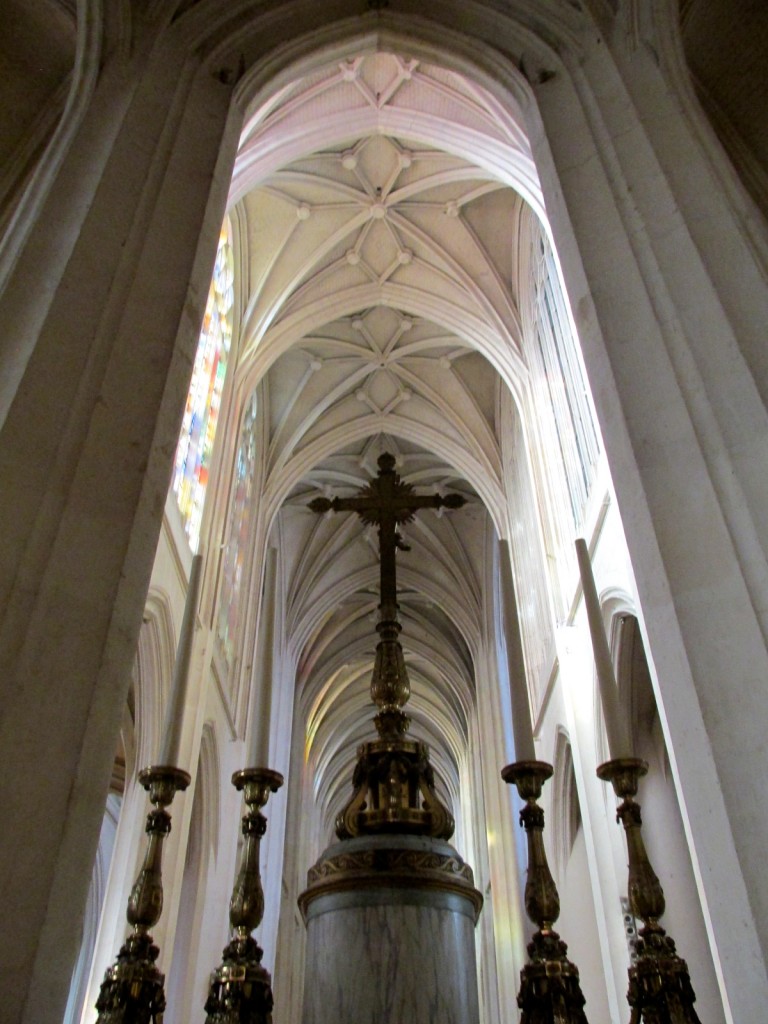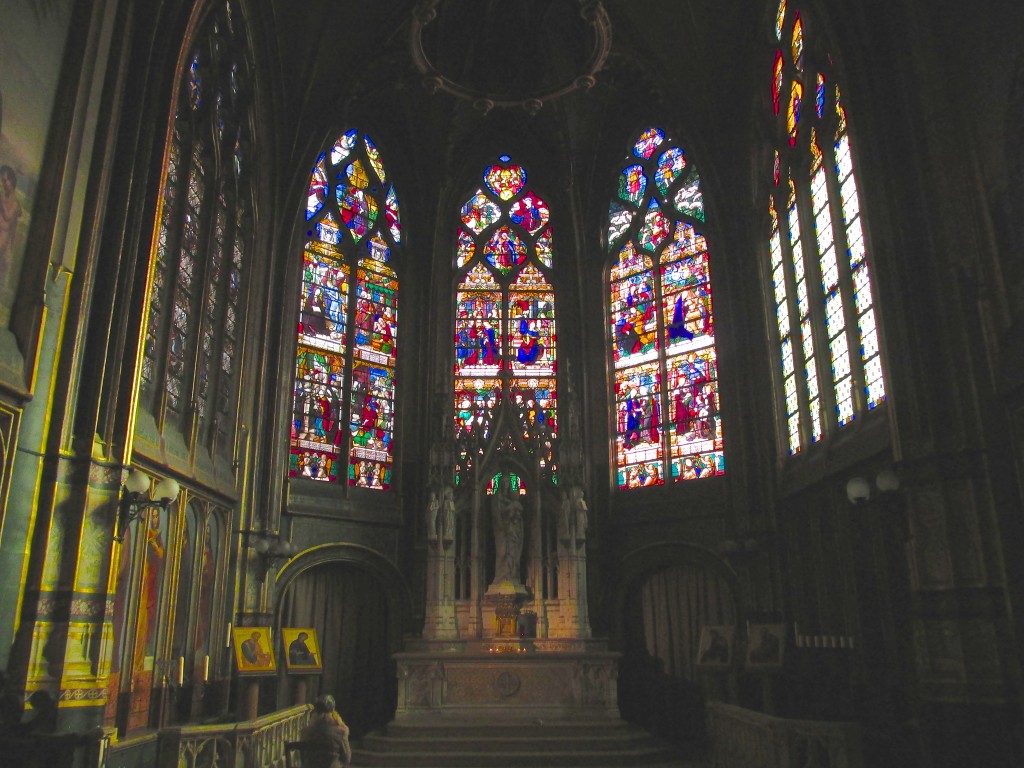 By the time we crossed back over the river, Jim was wearing out and complained about my walking too fast and too far. The fitbit says I walked 5.97 miles today. It didn't seem far to me, so after dropping him off to rest I marched up to Montparnasse to watch the ice skaters for awhile. It's always a good show watching people bang into the wall, knock each other down, and always there are some aspiring figure skaters out in the center making everyone else look foolish. For those of you who know Father Hackett: here is evidence that he is here sitting in the park behind Notre Dame!