Thursday, February 26
A day of drizzle and stillness. The Irish would call this a "soft day", and it was just that. We didn't leave the cozy confines of the apartment until 5:00 pm when we headed off for a three metro line trip into the 19th arrondissement for dinner with a delightful family: mom from Oklahoma, dad from Normandy, France. The 19th is where Charlie's publishing office is, and it all happened just about two blocks from where we were headed. The father of this family is the vice principal of an upper level school (18 to 23 year olds), and mom teaches at the Institute Catholique right here in our neighborhood. Their lives are like a story-book love tale. He gets "sent" by the French Ministry of Education to the University of Oklahoma. She graduates from Yukon High School and begins as a freshman at O.U. They both practice their faith and meet at church: St Thomas More University Parish. Marriage follows, a return to his roots in France. A variety of jobs for a short time and then finally things come together. There are two boys, 5 and 6 years old who sing the prayer before meals. 
It was a magical and delightful evening in someone's home with another chance to experience comfortably the way people live in another country and culture. The boys speak to mom in English and to dad in French. Dad only speaks French to the boys, and Mom only speaks English. There were two moments of insight into this when the older boy, who was not missing a word of the adult conversation over dinner, heard the word, "Club". He ask (in french) what "Club" means. The father responded in french with an example saying: "It's an association of people who have common interests like your Chess Club." A few minutes later, the younger one got up and walked around the table asking his father if he knew where his red pen was (he had been drawing me pictures). The father responded to the french question that he didn't know, and without taking a breath, the child turned to mom and asked the same question in perfect english. Of course, mom being a mom, knew exactly where the red marker was. It amazes me how the brain of a child can switch so quickly and clearly from one language to the other. The highlight of the evening was night prayer when the boys sang:"Jesus Remember me when you come into your kingdom." There was a piano in the living room so I got up and began to accompany them to their surprise with the result that we had several mover verses.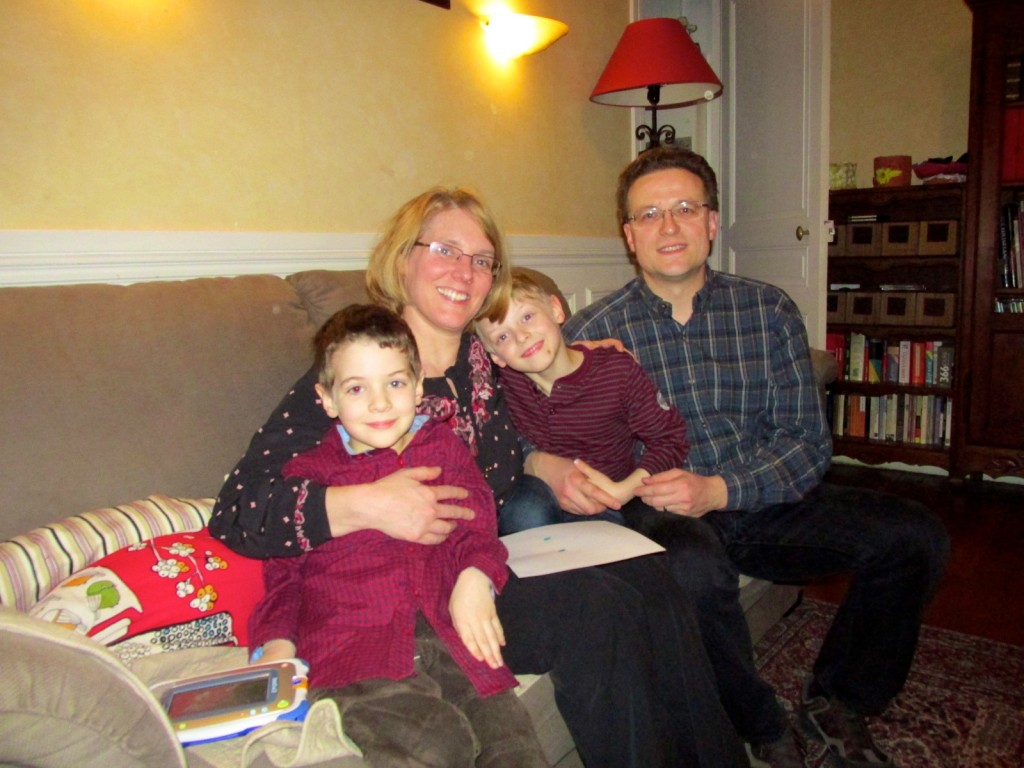 Since I want to publish a family photo tonight and the children are included, I am purposefully not including any names, but you will have to smile – and enjoy their smiles. Of course, being there meant two things: four different kinds of wine, and an extraordinary meal beginning with a pea soup followed by duck with a sauce I could never duplicate, five different cheeses, and DESERT! It was only a 2 mile day, so I figure I gained at least four pounds! We were driven home and given a great night-time tour around this beautiful City of Lights. We passed near the Eiffel Tower on the hour, so there was the obligatory photo of that sight to end the day.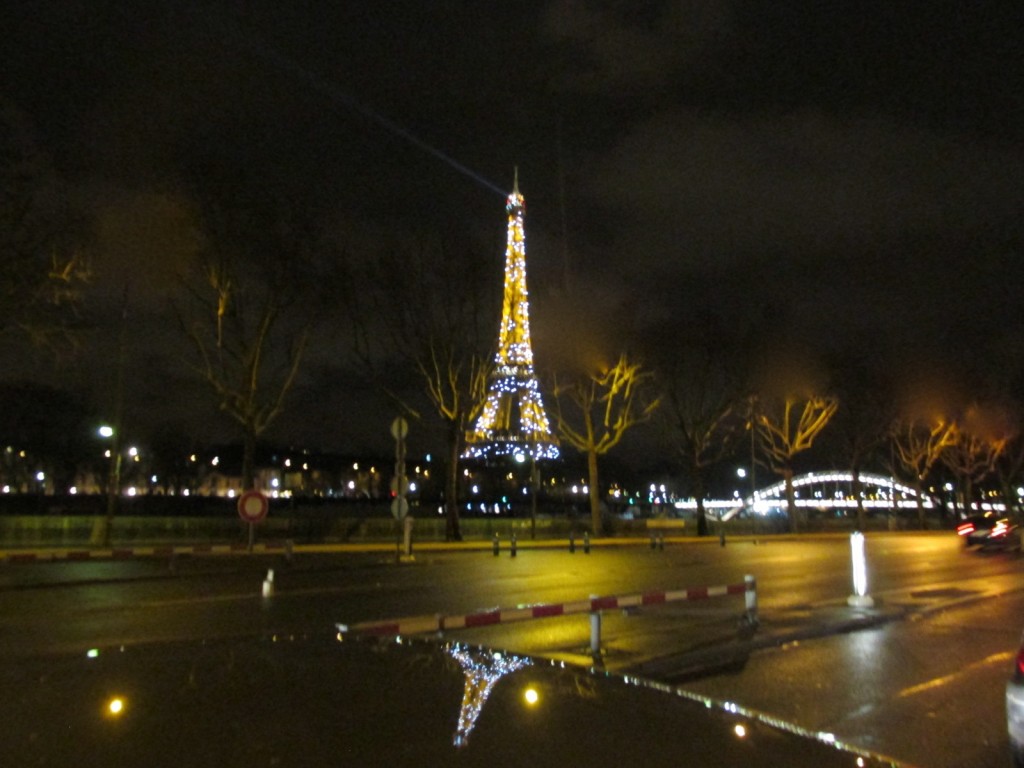 Otherwise not much visually to share unless you wanted to see me sitting in front of the wash machine again pushing the buttons and watching the lights blink. When it finally began to run after the right combination of buttons, I decided to shower. Not a good sequence of events. The wash machine is closer to the hot water tank than the shower. Guess what happens when the wash machine wants hot water or cold.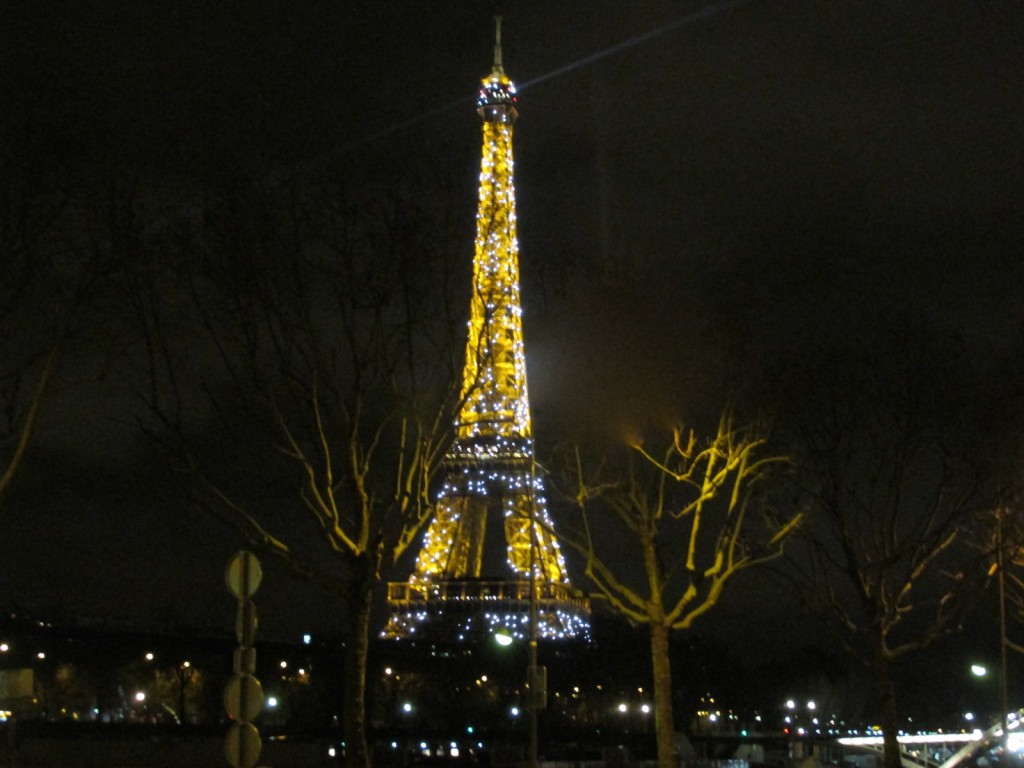 Preparations for the flight home have begun, and the stand-by jitters have begun since it does not look really good for the flights we had planned, but there is a plan B that may not get me home on Saturday. It's all a gamble, and I've never been seen in a casino.